Solid State Pinball is dedicated to growing the pinball community in Kansas City through classes, events, and tournaments. We have run over 700 pinball events in Kansas City since 2011 and can't wait to host hundreds more at our new shop/arcade in Kansas City, MO. 
A great alternative to shopping online. very knowledgeable and personable staff.
Frequently Asked Questions
Are you a shop or an arcade?
Why not both?! We have a dedicated shop space with parts, games for sale, and awesome pinball related merchandise. The shop space also houses 20+ pinball machines available for public play by the hour or day. In addition we have a dedicated coin drop pinball parlor upstairs that is open every day.
How much does it cost to play games?
The upstairs arcade is on coindrop, games cost 25 cents to one dollar to play and a change machine is available. The games in downstairs shop an arcade are on freeplay but a membership is required. Memberships are $10 for one hour, $15 for 3 hours, or $20 for all day. We often run discounted days/sessions, tournaments, private parties, and full access days where the upstairs coindrop arcade is also included with membership.
Where are you located?
We have two spaces inside the Wonder Shops and Flats building at 2999 Troost in KCMO. Look for the Wonderbread truck on the rooftop patio. We have a coindrop arcade on the first floor and a large shop and arcade in the basement.
What are your hours?
Unless closed for a special event the hours for each location are posted on their respective arcade pages. 
Where can I park?
There is a lot of free street parking all around the building. See the map below showing available parking. If you aren't able to find street parking you can park in the paved lot behind Ruby Jeans. If you park in the lot on 30th street be sure to mind any parking signs and please do not park on the bikewalk KC side (marked below). The 1 hour parking before 5pm area (marked in yellow) is unlimited parking after 5pm.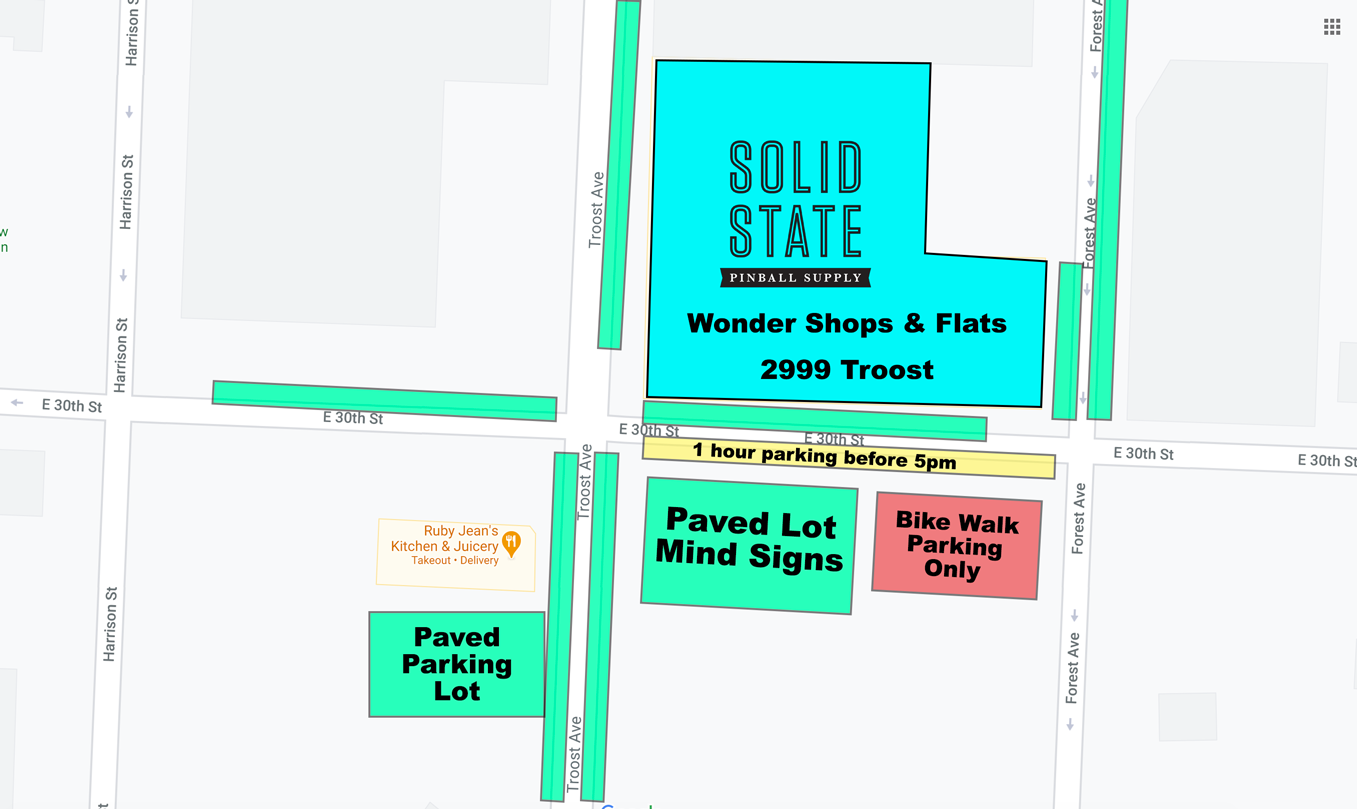 Are there restrooms at Solid State?
The building has 4 unisex bathrooms in the basement in addition to one male bathroom and one female bathroom on the first floor.
Can I bring a pet to Solid State Pinball?
With the exception of service animals, pets are not allowed at Solid State Pinball unless it is a specified pet friendly event.
Are children allowed?
Absolutely! We encourage you to bring your kids and hope to have kid focused events in the future. Anyone under 17 must be accompanied by a guardian, this is Kansas City law and we have to follow it.
Do you buy pinball machines?
Yes, please fill out the Pinball for sale form and we will get back to you at our earliest convenience.
Do you sell pinball machines?
Yes, we sell refurbished pinball machines for home use. Delivery is available.
Do you fix pinball machines?
Yes, we can repair, clean, and upgrade your pinball machine at our KCMO shop.
Do you offer in-home repair?
In-home repair is reserved for customers but we can put you in touch will qualified technicians. Fill out our in-home repair request form.
Can I rent your arcade/pinball parlor for a birthday party, corporate, or charity event?
Yes, view our pinball party packages here or fill out the Pinball Party Reservation form.
Do you rent pinball machines?
Our home rental program is currently on hold but check back in the future. If you wish to rent games for your 1-2 day event or to be notified when home rental is available again please fill out this form.
Do you have this specific part for my pinball machine?
We carry thousands of parts for all makes and models of pinball machines. If we don't have the part in stock we can likely get it for you. Don't know what you need, we can help you figure it out.
Great gem of a place in KC for experts and beginners. Very friendly and knowledgeable staff, they are the real deal!